If you like sports you will love Naturtejo Geopark. Here, nature invites you to engage in adventurous and fun activities. Come discover this region, where its diversity offers the perfect environment for the practice of recreational activities and outdoor sports.
Accept our challenge and come enjoy nature, whether if it's through calm and pleasant walks or intense sports which will peak your adrenaline levels. Engage in personal experiences or bring you friends to the practice of group activities. Relax in an idyllic scenario or show everybody what you're worth in a competition sport.
Here you will find energy, vitality and all the emotions that will make you thrill. At the end of the day, your body will be tired, but your mind will be fresh.
Birdwatching| Enjoy the contact with nature, in particular birdwatching
If you like the contact with nature, to observe rare species of birds, allied to a region of a millenary culture and a rich historic and cultural heritage, you will love the Naturtejo Geopark.
In this region, you will have the possibility to observe a wide variety of species of Mediterranean birds, some of them among the rarest and more emblematic specimens of the Iberian Peninsula, while you'll be driven through a rich landscape of historic memories, with an unpaired natural and cultural heritage.
The black stork, the imperial eagle, the royal eagle, the bonelli eagle, the griffin, the black vulture, the Egypt vulture, the blue thrush and the blak whetear can be seen on guided tours, by foot or by boat, among castles, typical ancient villages or profound and peaceful valleys.
For more information on special routes on bird observation access: http://www.naturtejo.com/conteudos/pt/observacao_aves.php
Boat tours| Choose to do a boat trip on Tejo River
If you like boat tours you can choose to take a tour up the Tejo river, where you will be able to see one of the largest griffin colonies in Portugal, the Black Stork, as well as many other species of wild fauna.
To book:
IINCENTIVOS OUTDOOR
Rua da Alfândega, 65
6030 Vila Velha de Ródão
Tel +351 966 504 149 /+351 272 543 012
www.incentivosoutdoor.com
grupos@incentivosoutdoor.com
Trekking| There are many paths that lead towards the discovery ...
In the Naturtejo territory routes are strategically planned and properly identified. There are many trails to discover: the Invasions Route, in Ródão, or the Megalithic path, between Gavião and Nisa. In Idanha-a-Nova you can choose to explore smaller routes (PR), such as the Vultures Route, the Egitânia Route or the Fossils Route, or longer routes such as the Idanha Route or the Historic Villages Route.
To see the walking routes Click Here
Moutain Biking| The whole region offers excellent conditions for mountain biking
All of this region offers the perfect conditions to the practice of mountain biking, particularly the Talhadas hill in Ródão, the Idanha-a-Nova and Castelo Branco plains, the "campinas", or the "Pinhal" area in Proença-a-Nova. To engage in these activities, the visitor can follow the already existing pedestrian paths or participate in organized tours promoted by several agents, such as the municipalities' tourism offices, from the Naturtejo area, responsible for the periodic organization of events.
Horse Riding Routes| Through the equestrian trails you can discover stunning sceneries
Trotting or galloping, through equestrian routes you can find amazing landscapes which illustrate the natural beauty that spreads all across this territory. Monthly, you can enjoy well known routes in the Idanha-a-Nova region, such as the Smuggling routes, the S. Brás route or the Ancient Trails route. Some other routes to discover are also present in Castelo Branco or in Proença-a-Nova municipalities.
- Rota do Contrabando (Idanha-a-Nova)
- Rota de S. Brás (Idanha-a-Nova)
- Rota dos Trilhos da Antiguidade (Idanha-a-Nova)
- Trilhos do Pinhal (Proença-a-Nova)
4x4| Exciting tracks that can only be traversed by 4x4 vehicles
There are many existing trails across the Geopark, which can only be overcome by using 4X4 vehicles. If you don't own one, you can always rent one of these vehicles and engage on the thrilling trails of the "Pinhal" area, in Proença-a-Nova, or in the Talhadas hill, in Ródão.
- Estreiro Trails | Oleiros
- Pinhal Trails | Proença-a-Nova
- TTransGeopark | Several municipalities
- AlenTerra | Nisa
- Mines Trail 4x4 | Idanha-a-Nova
- Talhadas Mountain | Vila Velha de Ródão
- Route Landgeossítios | Oleiros
Climbing on Geopark| Climbing, rappel or slide
The hills and valleys of the Geopark region challenge the lovers of this kind of sports, and invite them to the practice of mountain climbing, abseiling or sliding. Be an active visitor, break the monotony and experience edged emotions in this territory. The Penha Garcia hills hold beautiful and authentic treasures, a location of choice for the practice of adventure sports and the contact with nature.
- Penha Garcia Climbing School
Located in the Ichnological Park of Penha Garcia, one of the most famous Geopark's geosites. The type of rock spotted here is the quartzite with abundant fissures and regletes. Do not miss climbing near the most famous trilobite burrows Fossil Art made when the area was once a sea bottom! The school has 40 passages of one and two flights divided in 5 sections, with heights between the 8 and 45 meters. The provided gadgets are locking pins and stainless steel platelets, chain joints and snap hook. There are conditions also for sliding to cross Ponsul Valley.
-
Castelo Climbing School (V. V. Ródão)
Located in Portas de Rodão Natural Monument, a national protected area, in a quartzitic area closest to the King Wamba Templar Castle, this school spares 12 climbing passages properly equipped, with platelets and top's between the 10 and 20 meters high. It also offers 2 passages of classical climbing where is advised the use of small friends up to nº2. This is a set of natural joint passages with small regletes.
-
Gates of Almourão Climbing School
Located in Portas de Almourão Geomonument in Sobral Fernando, the climbing school is divided in three sections. Climbing is prohibited in nesting seasons for Griffon Vulture and Bonelli Eagle, in the sections Griffon Land and Yellow Plate from January to June. The rock type here existent is the intensively folded and vertically faulted quartzite and has 40 passages, with heights between 8 and 30 meters. The climbing is made in natural joints and regletes, being the time between September and December the best season for its execution.
-

Zebro Crest Climbing School
The brand newest climbing area is included in the International Appalachian Trail of Muradal-Pangeia, located next to the village of Estreito, in Oleiros, in one of the Muradal Mountain crests. The type of rock spotted here is the metaquartzite, with natural joints and regletes. The school has 10 passages up to 30m high, which provides a climbing closest to Daedalus beds crowded of fossils but preventing their destruction. The best season to fulfil this activity is from September to June. The provided gadgets are locking pins and stainless steel and zinc platelets. Do not miss the Via Ferrata "Walking on the Ordovician Sea".
Horse Riding Schools| There are several Riding Centres in Geopark Naturtejo
There are many equestrian centers in this region. Visitors only have to bring their will to enjoy the landscape's beauty mounted on a horse's back, in an unforgettable experience.
Equestrian centers: Castelo Branco, Idanha-a-Nova and Nisa
Rancho das Casinhas Equestrian Center
Largo da Devesa, nº 12 A
6060 Penha Garcia
Idanha-a-Nova
Telf.: 966 517 673
Quinta do Valongo
6060 Idanha-a-Nova
Telf.: 914 503 443
Quinta da Aldeã Equestrian Center
Quinta da Aldeã
located on the Castelo Branco - Escalos de Cima roadway
Castelo Branco
Telf.: 939805321
E-mail: quintadaaldea@gmail.com
Malpica do Tejo Equestrian Center
6000-560 Malpica do Tejo
Castelo Branco
T 272 914 216
Luís de Barros Botelho Equestrian Center
Escalos de Cima
Castelo Branco
Telf.: 968 897 576
Canoeing| Try canoeing in Tejo, Zêzere, Erges or Ocreza rivers
If you like water related adventures rent a canoe and sail through one of the region's rivers on Tejo, Zêzere, Erges or Ocreza. If you prefer calmer waters, you can always visit one of the region's dams, such as the Marechal Carmona, Fratel, Santa Águeda, Pracana or Marateca.
Rivers: Tagus, Zêzere, Erges or Ocreza
Marechal Carmona dam (Idanha-a-Nova)
Fratel dam (Vila Velha de Ródão e Nisa)
Santa Águeda dam (Castelo Branco)
Pracana dam (Proença-a-Nova)
Marateca dam (Castelo Branco)
Photographic Safari | Combine the pleasure of taking photos a good dose of adventure
To combine photography and adventure is the receipt to moments well spent. Participate in one of the safaris promoted by the Astória Hotel, in the Tejo Internacional area, or, if you prefer, engage in your own personal experience to discover the beauty of the Naturtejo area through your lens' perspective.
Parachuting, Skysurfing and Paragliding| Whatever activity you choose, you will feel in the clouds
If you like to feel the adrenaline rushing, don't miss the chance of trying these activities. You can engage on parachuting or skysurfing activities in the aerodromes of Moitas or Proença-a-Nova, or paraglide from the top of Penha Garcia's hills.
Rampa de Penha Garcia
Parachuting and skysurfing – Parachuting school of Proença-a-Nova
Sky Fun Center
Pista das Moitas
6150-374 Proença-a-Nova
E-mail: info@skyfuncenter.com | www.skyfuncenter.com
Telf.: 925 505 505/925 605 605
Reservations required
Sport Events| Stage of various national and international sports events
The Naturtejo area is frequently home to various national and international sport events. Among them stand out the European Paintball Championship, the National Orientation Championship and the International Iron Man competition, which takes place in Idanha-a-Nova; the Portuguese Cup of Formation Flying and Skysurfing in Proença-a-Nova, the Challenger taking place annually in Castelo Branco, and the Portas de Ródão Rally, taking place annually in Vila Velha de Ródão.
EarthCaches é um tipo de Geocache onde são usadas linhas de orientação adicionais relacionadas com as Geociências. É possível encontrar a lista e a localização destes locais em www.earthcache.org/.
No Geopark Naturtejo existem actualmente sete EarthCaches localizadas em geomonumentos e noutros geossítios de destacado interesse.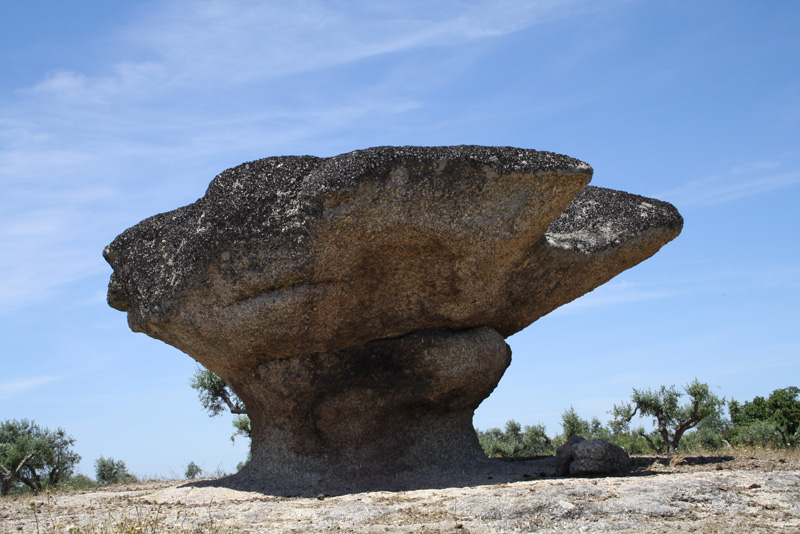 Proença-a-Nova
Os segredos do Vale Mourão
Idanha-a-Nova
Falha do Ponsul
Inselberg de Monsanto
Cruziana [Penha Garcia]
Nisa
Mushroom rocks - DP/EC47
Tafoni
Triuranium octaoxide (U3O8) - DP/EC-57
Toda a informação sobre estas EarthCaches em
www.earthcache.org/
.
Other activities| Cycling, Motor Sports and Train Rides
Ciclotourism:
Idanha-a-Nova Ciclotourism Association (ACIN)
Rua do Pombal N.º5 6060-121 Idanha-a-Nova
E-mail: acin.idanha@gmail.com | www.acin.com.pt
Telf.: 969 217 195 / 965 078 749
Castelo Branco Ciclotourism Association (ACCB)
www.accb.com.pt
Ciclotourism Association Beira Interior (ACBI)
Rua da piscina, Antº Edifício da Piscina, s/n, 6000-776 Castelo Branco
www.ac-beirainterior.net
Motorized nautical sports:
Tejo and Zêzere rivers
Marechal Carmona dam)
Train tours:
Beira Baixa railway – Special programs
Adventure Train | Ródão route, with one day special programs.
For additional information contact:
- CP Regional:
gruposlbrg@cp.pt
- Tel.: 249 132 752
- Incentivos Outdoor:
http://incentivosoutdoor.blogspot.com
- Tel.: 272 541 196 - Tm.: 966 503 746 -
grupos@incentivosoutdoor.com