River Beaches
The Geopark's river beaches are one of the main attractions in this region, with clean waters, adequate equipments and vigilance services, assured in many of these beaches during the whole summer and supervised by the General Department for the Environment.
All across this region, you will find idyllic places, among which the river beaches of Almaceda and Muro in Castelo Branco, Álvaro de Cambas in Oleiros, Aldeia Ruiva, Fróia, Malhadal and Cerejeira in Proença-a-Nova and Foz do Cobrão in Ródão.
In the summer time, these are main attraction for spending leisure and quality times, where visitors can enjoy the region's natural resources, but also some leisure equipments, such as bars, restaurants, playgrounds, among others.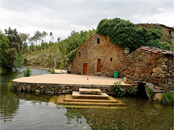 ---