Regional Gastronomy
One of the more emblematic lines of union of the Naturtejo Geopark is his common gastronomic heritage. Fruit of ingenious minds and wise hands, the secrets of typical dishes of the region were passing from generation to generation and they came up to our days almost unchanged.
Based on agricultural resources, livestock and hunting in the region, the cuisine of the Naturtejo Geopark is vast and diverse.
The excellence of the meat produced in the Naturtejo Geopark has been recognized with the award of several quality certifications, in particular to the "Cabrito estonado" of the Oleiros, the Lamb of Beira and the Northeast Alentejano (PGI - Protected Geographical Indication) and to "Carne de Porco Alentejana" (dish "Alentejano" of Pork (PDO - Protected Designation of Origin).
The river fish are also a treat that is worth appreciating.
Geoproducts are local products based on Geodiversity or Geological Heritage of Naturtejo UNESCO Global Geopark. They are innovative products that promote the Geopark's resources, strengthen the local identity and promote sustainability.
---
Meat:
Lamb, lamb, pork and their sausages.
Typical dishes:
"Cabrito Assado no Forno" ( roast kid in the oven); "Ensopado de Cabrito" (Kid stew); "Cabrito Estonado" (a specie of roast kid); "Ensopado de borrego" ( Lamb stew); "Ensopado de Javali" (wild boar stew); "Sopa da Matança" (Soup of Slaughter); "Laburdo" (soup made with pig's blood and spices in the days of the slaughter of the pig); "Maranhos" (The "maranho" is a small bag made of a piece of goat's stomach, stuffed with goat meat, onion, ham and rice and strong spices); "Bucho Recheado" (stuffed stomach); "Fígado de Cebolada" (liver with onions); "Gaspacho" (is a cold soup on bread and vegetables, especially tomatoes, cucumbers and peppers); "Perna de Porco com Castanhas" (Leg of Pork with Chestnuts);
Fish:
"Barbos", "Carpas", "achigãs", trouts, "lampreias", eels
Typical dishes:
"Truta grelhada da Ribeira" (Grilled Trout of the stream); "Sopa de peixe do rio" (river fish soup); "Arroz de Lampreia" (rice with "Lampreia"); " Achigã frito" (fried "Achigã"), "Caldeirada de Enguias" ("mish mash" of eels);
Cakes and Desserts:
Dry cakes (broas de mel, cavacas, borrachões, biscoitos, couscureis, nógados, pantufas), sliced cakes (pães de ló, bolo de mel, bolos de páscoa); Fried cakes (filhós, sonhos, argolas doces, azevias); Sweets that are eaten with a spoon (arroz doce, papas de carolo, tigelada, requeijão com doce de abóbora); Conventual sweets (rebuçados de ovos e barquinhos).
Cheeses:
Cheeses of sheep, goat and mixture (Idanha-a-Nova, Castelo Branco, Nisa, Penamacor, Proença-a-Nova, Vila Velha de Ródão and Oleiros).
Other products:
Olive Oil, bread, olive oil spouts, honey and fruit: orange, fig, persimmon (Idanha-a-Nova), cherry, sour cherry, chestnut (Proenca-a-Nova) and arbutus (Oleiros).
Drinks:
Arbutus berry liquor brandy; Callum Wine, Liquors; ;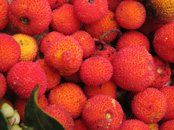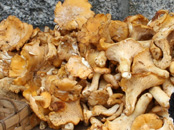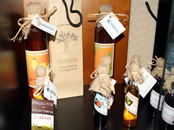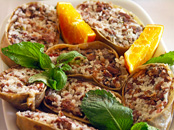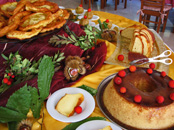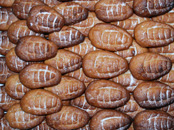 ---