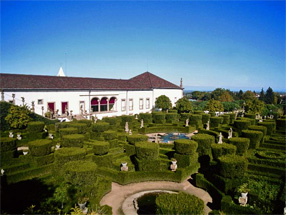 This garden is one of the best original examples of the Baroque in Portugal. Its characteristics are particularly notorious on statuary, being present in its symbolic elements, organized according by themes.
It was Guarda's Bishop, D. João de Mendonça (1711-1736) who ordered and probably oriented the construction of this site. By the end of the 18th century, D. Vicente Ferrer da Rocha, the second bishop of the diocese of Castelo Branco, also orders some important modifications to be made to the garden. In 1911 the Site is rented by the city council, and in 1919 this site is finally acquired by this institution.
This Baroque garden has a rectangular shape and it is surrounded by iron and carved stone balconies. It has five fountains, with elaborated decorative elements, with water jets and patterns.
Among the boxwood, rise symbolic granite statues representing biblical events, the virtues, the zodiac signs, the parts of the world, the four seasons, fire and hunting.
Along the steps are represented the twelve Apostles and the Kings of Portugal, until D. José I.
In the above terrace, we can find Old Testament statues and the symbology of water as a purifying element. The Flooded Garden (Jardim Alagado), is a pond ornamented by round curves and flower beds, with a carved stone jet in its center with the representation of three dolphins topped by a crown.
There is a very interesting iconography to these elements associated, which is due to the fact that there's a singular connection between religion and pantheism.
This entire garden has been object of a profound and complex intervention, in which the Polis Program, helped preserve the vegetation, reintroduce some of the original species, restore the water systems and the scenic illumination.
This intervention also included the cleansing of the statuary and other carved stone elements, the rebuilding of some walls, the recovery of the main tank and all the statues were put back to their original place. During this process, it was also discovered and restored the hydraulic system, built in 1725, still perfectly intact today.
The Garden's Tiles
The walls that surround this garden contain a very important tile panel, in a monochromatic representation of various perspectives of the city. These /images, of blue over a white background, represent old parts of the city, like the chapel of São João and the square adjacent. There are also some stone framed tiles, representing the drawings of Castelo Branco, made by Duarte de Armas in the 16th century, as well as the representation of the bishop D. João de Mendonça.